Table Groups (September 2021-May 2022)
Looking for a way to connect over a shared interest? Table Groups meet monthly and are facilitated by group members equally. Sign up if you are interested, and then based on who signs up, a monthly day/time will be established. Sign up for as many as you wish, and attend as frequently as you wish. Table Groups are meant to be accessible ways for a variety of people to find their "place at the table" in our Calvary community. When signing up please keep in mind that mornings are 9AM - 12PM, afternoons are 12PM - 5PM, and evenings are 5PM - 8PM, and are in MT. Sign-ups are unlimited because groups will be split into smaller groups as needed. All groups are encouraged to use the TABLE TALK topics as ice-breaker questions when you meet. Groups will meet monthly from September – May and need a minimum of six people to "make;" the proposed groups include:
Onsite: 
PUZZLE TABLE – Get together monthly to work a jigsaw puzzle together 

GAME TABLE – Get together monthly to play games together (board games, or charades/Pictionary type games, or when the weather is nice – lawn games) 

ACTIVISTS TABLE – Get together monthly to learn about a justice or equity-related issue in the community, write letters/make calls to representatives, plan ways to share information at Calvary about the issue 

CREATIVE TABLE – Get together monthly to engage in something creative (adult coloring books, group doodling, crafts from Michaels; could include occasional field trips to paint pottery or go to a sip 'n paint place, etc.) 
Offsite 
SPORTS TABLE – Get together monthly at one another's homes to watch a game; could include going to a game in person) 

DINING TABLE – Get together monthly for lunch after morning worship or dinner after evening worship (go out to eat, or host one another in your homes) 

PARKS & PLAYGROUND TABLE – Get together monthly at a different playground or park around Denver, including dog parks (great for families, people with pets, or adults who like lawn games) 

GREAT OUTDOORS TABLE – Get together monthly for a hike or outdoor activity (snowshoeing, biking, etc.) 
Online:  
RECIPE TABLE – Get together monthly on Zoom to share a favorite recipe and the story that goes with it; invite others to cook along with you if you wish 

TRIVIA TABLE – Get together monthly to play online Trivia games or other fun online games through apps like Houseparty 

FILM TABLE – Get together monthly to discuss a movie or documentary you've all watched 

HOT TOPICS TABLE – Get together monthly to discuss a "hot topic" of the facilitator's choosing (ex: recent sermon, news story, article, podcast, etc.)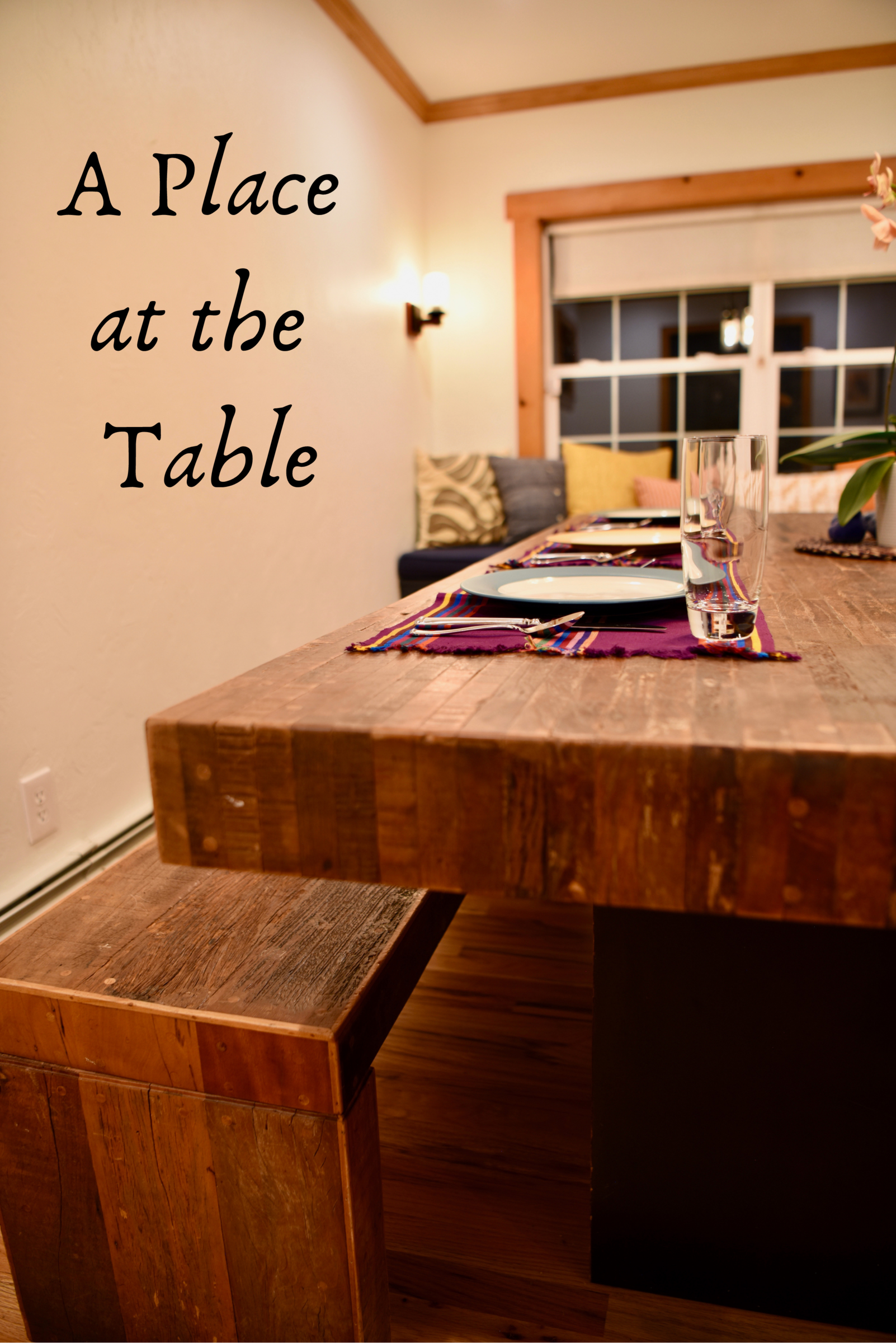 You can sign up with your time preference by September 30th.
After September 30th, email Pastor Morgan or check here to find out when groups are meeting.
Email Pastor Morgan (mfletcher@calvarydenver.org) with the following:
Group You're Signing Up for-
Okay to Text? (yes or no)
Time preference- include time of day and day
 Morning (9-12); Afternoon (12-5); Evening (5-8)
Morning:     Su    M    Tu    We   Th    Fr    Sa
Afternoon:  Su    M    Tu    We   Th    Fr    Sa
Evening:      Su    M    Tu    We   Th    Fr    Sa
Our 2021-2022 Theme
Calvary's theme for this program year is "A Place at the Table." After many months of distance and separation, we are celebrating the gift of gathering together around a variety of different kinds of tables (including virtual!) as we share in life and faith together. All of these tables symbolize in some way a key aspect of the central Table for our lives – the Lord's Table, where we experience the love of God and the grace of Christ.  
Gathering around tables and inviting others to join us is a recurring theme in Scripture – whether sitting down with our enemies, eating with sinners and outcasts, recognizing the presence of God in our midst in the breaking of bread, or establishing an early spiritual practice for worship. Still today, tables symbolize key aspects of our shared life together: Fellowship (gathering, eating, crafting, playing games), Worship (Communion/The Lord's Supper – all are welcome at God's Table), Welcome/Advocacy/Inclusion (ensuring everyone has a place at God's table, Calvary's table, and our own tables), Service & Hospitality (creating space for diverse palates and traditions, sharing resources/gifts), Stewardship (a table of abundance versus scarcity), and Faith Formation (sharing stories, Bible study, and prayer around "tables"). 
Finding "A Place at the Table" and ensuring others have "A Place at the Table" can be light-hearted and fun as we gather, eat, and play together. It can be nourishing and healing through partaking in communion or shared stories and experiences. It can also be deeply challenging through faith formation and service.  
Tables connect the past (memories), the present (the Lord's Table), and the future (heavenly banquet/communion of the saints). And – people of all ages and cultures gather around tables! We hope you will join us in finding your place at the table and invite others do the same as we make our way through another year in the Narrative Lectionary and explore these themes together: 
Gathering Sunday Season  (Sept. 12 – Oct. 10) A Place at the Table 

Stewardship Season  (Oct. 17 – Nov. 21 ) Table of Abundance 

Advent/Christmas (Nov. 28 – Jan. 2) Setting the Table 

Epiphany Season (Jan. 9 – Feb. 27) What Jesus Serves Up 

Lent (Mar. 6 – April 10) Turning the Tables 

Eastertide (April 17 – May 31) A Moveable Feast