May 27, 2021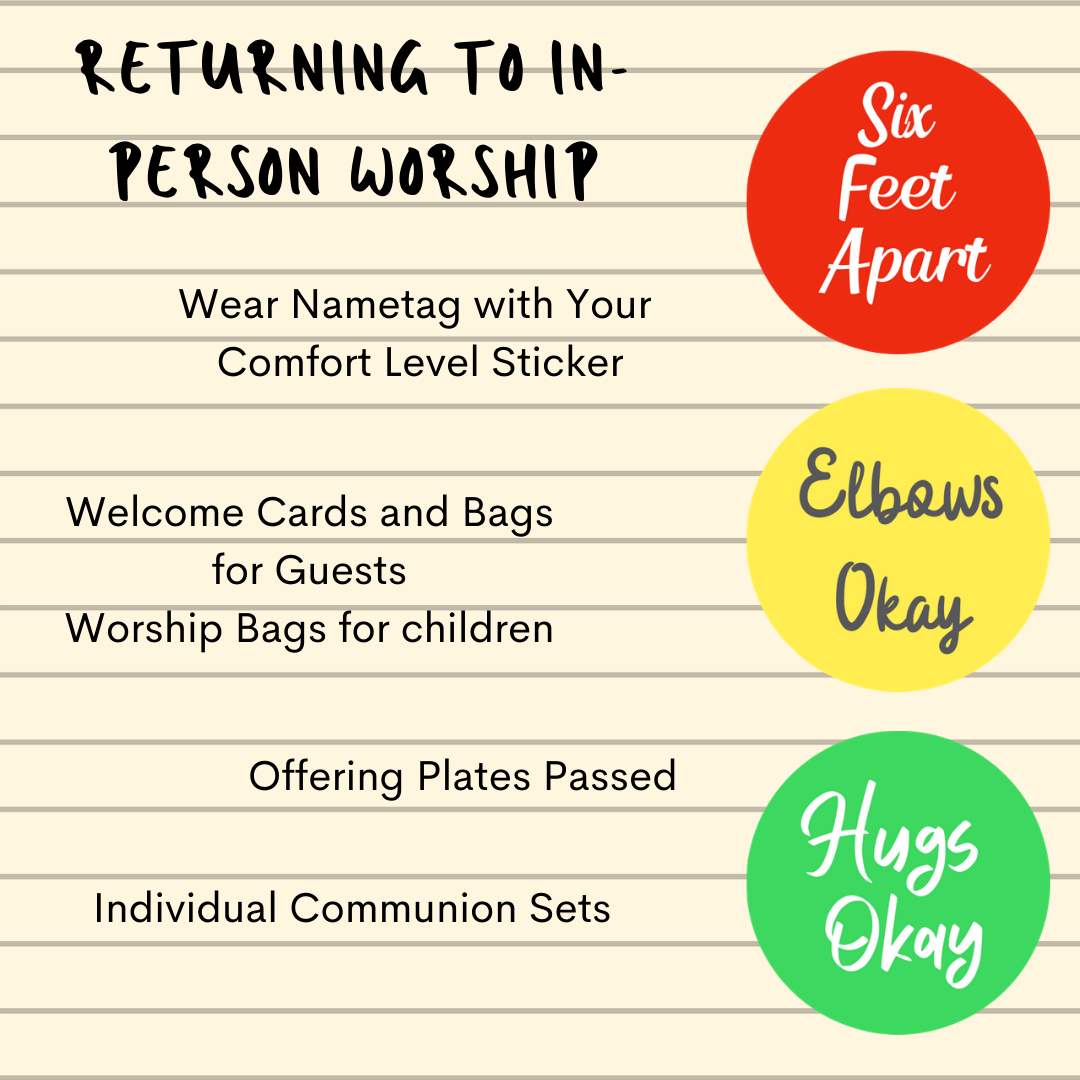 We are looking forward to welcoming you back to in-person worship on June 6!

 
This will be a learning experience for all of us as we gather together inside after 15 months apart; we appreciate your grace and patience as we work through the details of re-entry. Here are some notes to help you know what to expect and how we can do our best to be a community that is Open to All, Closed to None:
 
Welcoming Notes for Gathering Together
    •    Per local and national guidelines, those who are fully vaccinated are not required to wear a mask (unless working with children).
    ◦    This is the honor system; we will not be asking about vaccinations (except for those who are working with children).
    ◦    There are many reasons why some people may continue to wear a mask (such as having a compromised immune-system, living with children or those who are not able to be vaccinated, realizing that there may be unvaccinated people in the church since it's a public place, having different comfort levels with re-entry, to name a few). That said, please respect each individual's personal decision around mask wearing and refrain from asking people why they are wearing a mask or why they are not wearing a mask; if they wish to share that information they will.
    •    As you enter the building, please put on your nametag and choose a sticker to put on your nametag or clothing. The color- coded sticker communicates to others your comfort level with interaction and serve as an indicator to you of someone else's comfort level. You may change your sticker from week to week according to your comfort level that day.
    ◦    Green – Hugs Okay
    ◦    Yellow – Elbows Okay
    ◦    Red – Six Feet Apart
    •    Per local and national health guidelines, social distancing is not required.
    ◦    However, if you see someone with a red sticker, please keep 6 feet distance; this includes when you find your seat in worship; do a brief scan of those in front, behind, and beside you to ensure you are not sitting too close to someone who has requested space.
    •    Hand sanitizing stations are located throughout the church.
    •    We'll be using printed Orders of Worship as well as pew hymnals in morning worship.
    •    Offering plates will be passed in morning worship.
    ◦    You always have the option of giving online or putting your offering in the office door mail slot.
    •    Communion will be served in receive pre-packaged element set (hand sanitizer stations available after you receive your elements).
    ◦    For those who cannot come forward to receive elements, we will bring elements to you.
    •    Hearing assistance devices are available in the coat room.
    •    Welcome Cards in the pew racks and Welcome Bags will be offered to guests (we're holding off on bread for guests for right now as well as the Welcome Registries).
    •    Worship Bags available for children.
 
Sunday Schedule
10:00 a.m. – Coffee Hour (Fellowship Hall)
    •    Announcement slides running on the screens in the Narthex and Fellowship Hall (before and after worship)
    •    View the Calvary 2020 paper quilt in the Fellowship Hall! The squares tell the stories of 2020 and were submitted by Calvary folks. It was put together by Pastor Morgan.
10:30 a.m. – Worship (Sanctuary
    •    Nursery care available for Pre-K and under
    •    Announcement slides running in the sanctuary with voice over beginning between 10:20-10:25
4:45 p.m. – Coffee Hour (Outside of Fellowship Hall)
5:00 p.m. – The Gathering Contemporary Worship (Chapel)
    •    Nursery care available by RSVP (RSVP to ahornernelson@calvarydenver.org by the Thursday prior)
 
For those who continue to worship with us online, please join us on Livestream at 10:30 a.m. MT and 5:00 p.m. MT on our YouTube Channel; we hope to always have a pastor or a welcoming leader engaging with you in the livestream chat.


Church Office
The main office will be open on Tuesday's and Wednesday's from 9:00 a.m. to 4:00 p.m..
 

Calvary, I know there will be a Sweet, Sweet Spirit among us as we gather on June 6 – can't wait to be together again!
~ Pastor Anne