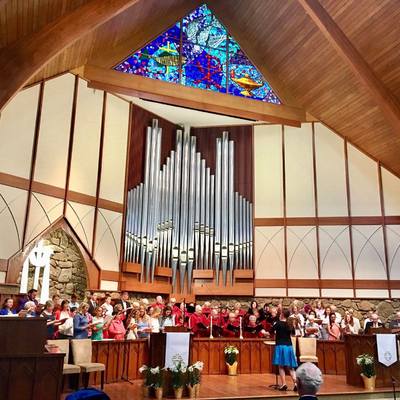 The Calvary Sanctuary
Calvary's sanctuary is where we gather as a community for Sunday worship. This is the place where God is our audience and the object of our devotion and praise.
The Calvary sanctuary, with its high arches and expansive interior, is carefully designed to lift our eyes heavenward and remind each of us of the grandeur of God. The two dominant ideas expressed in Calvary's sanctuary are "Christian worship" and "Colorado," as represented by the lavish use of wood and stone (suggestive of the Colorado mountains) and the Christian symbolism seen in the plant-life symbols that are carved into the end of every fourth pew in the center aisle… 27 in all, reflecting the number of books in the New Testament.
The sanctuary also features 12 stunning stained-glass windows—each bearing a different symbol of Christianity or our Baptist faith—ultimately blending everything visible into a harmonious whole to reflect the beauty and orderliness of God's creation.
Chapel
Another holy and sacred part of our church, the chapel is an intimate space, perfect for small services. In the chapel, you will see a piano and an organ, as well as a beautiful stained-glass window and a very simple altar. We hold special services here, such as small weddings and funerals, Lenten services, and small prayer gatherings. It is also an ideal setting for sitting and praying alone.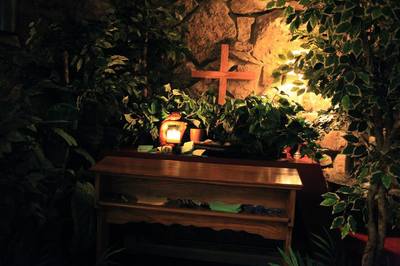 Prayer Room
This is an individual prayer space for one or two people that offers complete privacy, a kneeling altar, and a sliding glass door that leads out to Calvary's Foot of the Cross Courtyard.
The Western (or Wailing) Wall
A unique and beautiful wall made of ancient stones, the original Western, or Wailing, Wall is a sacred place in the Old City of Jerusalem that has been a site for Jewish prayer and pilgrimage for centuries. It is the last remnant of the Temple—the most magnificent building Jerusalem had ever seen. In the spirit of our Judeo-Christian heritage, Calvary has dedicated space for our own "Western Wall" and is a place where anyone can come to pray for peace, mercy, and hope. Here you will find written prayers tucked into the wall's many crevices: a unified visual and tactile representation of people's prayers.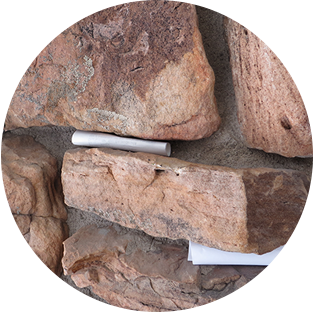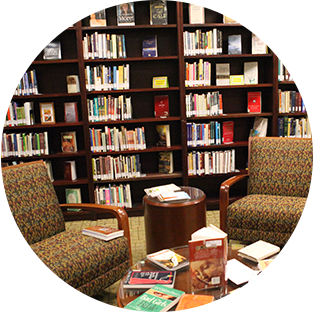 The Calvary Library
A wonderful, robust library which has been recently updated, this comfortable space offers an array of resources on all topics around life and faith, including: theology, biblical studies, prayer and devotion, the Enneagram, spiritual formation, Christian living, biblical history and background and maps, other religions, social justice, Christian fiction, ethics, and progressive theology.
The library also offers an extensive children's book collection with high-quality material that helps children explore the world through the lens of faith, learn about other cultures, and more. It is free and easy to check out books at the Calvary library. It also contains teaching resources (including those in DVD format) and monthly issues of Christian publications and is a comfortable place for meetings or quiet reading.
Foot of the Cross Courtyard
A beautiful, sacred place for Calvary's saints to find their final resting place, the Foot of the Cross Courtyard is made up of a beautiful garden and columbarium and is adjacent to the Prayer Room at Calvary. It is a quiet oasis, just steps away from the life of the church, which allows us to keep loved ones close by, and to honor their gifts of service and love.