November 12, 2021
It has been quite a while since I've reached out to you in this way, Calvary. Things have shifted for me quite a bit, as you know, taking on two roles, but especially in the pandemic, leading music has taken a uniquely challenging and rewarding path. Of course, having the Calvary Choir return to singing has been a true joy, as well as welcoming our new Choral Assistants. But choral singing has taken a hard hit during this COVID era, as you know, so being able to bring our wonderful handbell choir, JuBellation, back into our services has and will continue to be a blessing and beautiful addition to our music ministry. 
One of the key boosts we received came from the amazing generosity of donors who helped refurbish our excellent, five-octave, handbell set last summer. Although over thirty years old, they are of top quality, so having each one adjusted, repaired, cleaned and polished created a set that took my breath away when I saw them on their tables (see photo). And our ringers couldn't have been more motivated to start playing them!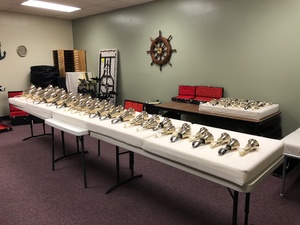 Although we started out this season with a modest piece (9 bells), meant to be rung with choir for the Chiming of the Hour, we are looking forward to begin working on a more substantial arrangement of a carol written for 13 handbells soon to be featured during this Advent season. It should be a glorious sound. My hope is to continue to incorporate the handbells in services throughout the program year. 
JuBellation rehearses in the Instrument Room (next to the Chapel) on Sunday mornings following our worship service from 11:45 a.m. – 12:30 p.m. If you are interested in joining, please do not hesitate to contact me at dfarwig@calvarydenver.org. I would welcome anyone who is interested. Knowledge of musical notation is helpful but not necessary. One of the most rewarding aspects of learning to play handbells and read music is how we rehearse in a setting that is fun, low pressure, and encouraging of fellowship and comradery, while also teaching music fundamentals that are life-enriching and personally rewarding. And it's a great way to support our music ministry, ringing for the glory of God and blessing of our congregation.
Calvary, thank you for your continued support of all our ministries and in particular, our music. We are definitely blessed in so many ways. Even amid these tough times, we can say we share all sorts of tables of abundance! 
Sincerely,
David