May 06, 2022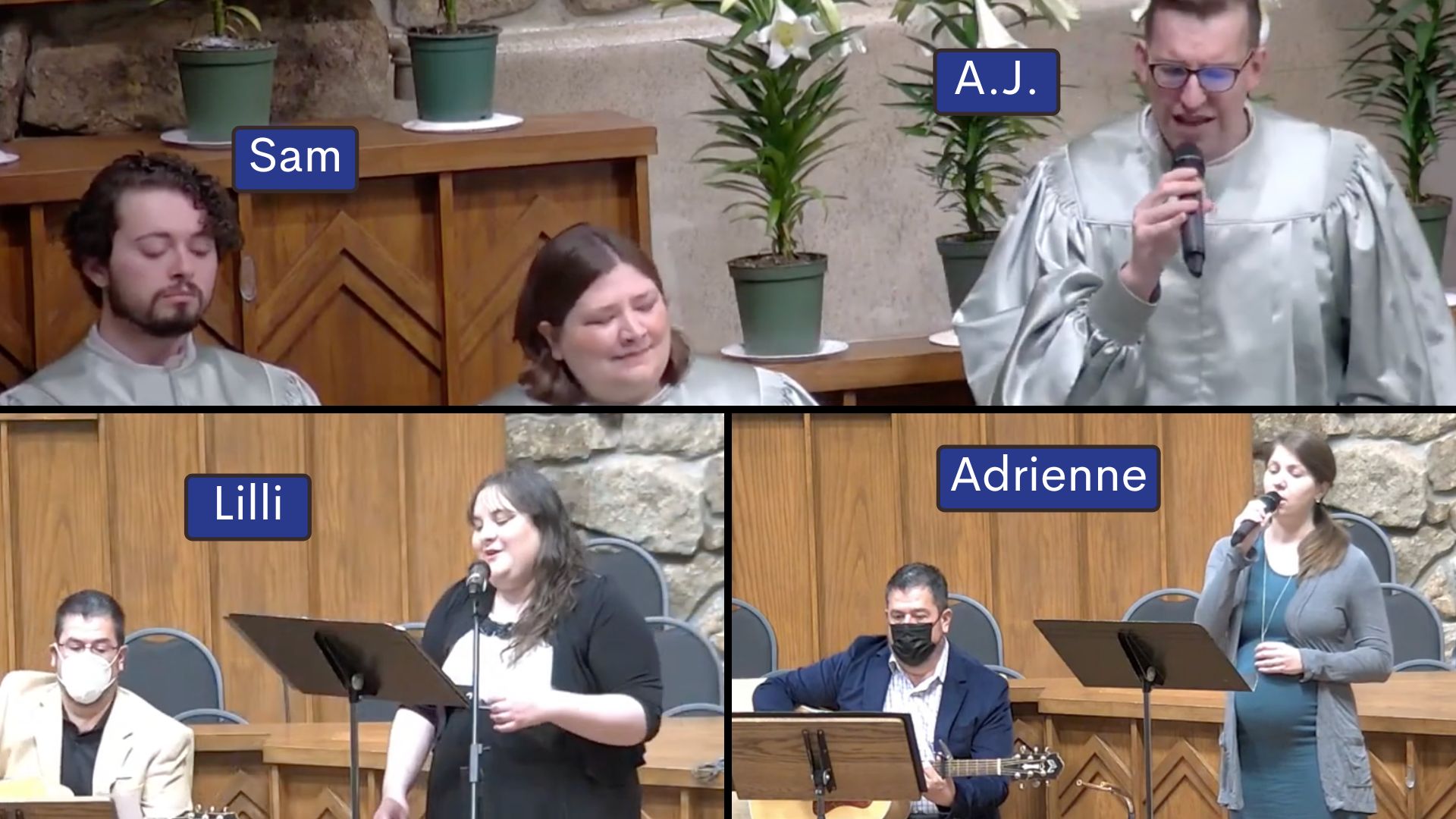 Hello, Calvary!
   One of the exciting things that has happened this last program year was the addition of our Choral Assistants. Adrianne Fleming, Lilli Bailey-Duran, Sam Sherman, and A.J. Wulf are now familiar faces to you, I'm sure, as they attend and sing (and play) in the Calvary Choir for our Sunday morning services and Christmas concert. I know many of you have gotten to know these lovely young people, but I thought I'd write up a profile on each to highlight their wonderful talents and background.
   I cannot go on without expressing my deepest gratitude to you, Calvary, for all your extraordinary support of our music program, including funding for these talented, emerging artists. As you may recall, one of the key aspects of bringing in young singers is that of outreach – offering a church community that is "open to all, closed to none," and you have welcomed them warmly, as they have also begun to feel more a part of our church. I also wish to offer continuous thanks to the Lilly Foundation and the Church Music Institute's Dr. Charlotte Kroeker for coordinating this excellent program and grant these last two years.
 Adrianne Fleming, soprano
   Adrianne is a classically-trained singer who performs locally with the Alpine Chorale, Colorado Bach Ensemble, and Opera on Tap. She has joined the Calvary Choir as a guest performer on numerous occasions since 2018, and became the soprano Choral Assistant in September of 2021.
   Originally from the Finger Lakes region of upstate New York, Adrianne has performed in Boston – where she lived before coming to Denver – and  the Denver metro area.  Adrianne holds a Bachelor of Music in vocal performance and music education from Ithaca College's School of Music, as well as a Master of Music Education degree from Kent State University.
  Adrianne's recent choral engagements include performances with The Alpine Chorale, Tanglewood Festival Chorus, New World Chorale, Commonwealth Chorale (formerly Newton Choral Society). She has been featured as a soloist with The Alpine Chorale, Commonwealth Chorale and has been the soprano soloist in both Protestant and Catholic Churches.  Adrianne has performed in such venues as Symphony Hall (Boston, MA), Sanders Theater (Cambridge, MA) and the Tanglewood Music Center (Lenox, MA), and a special performance at the Sydney Opera House in summer 2018 with the Alpine Chorale and other choirs under the direction of Craig Hella Johnson.
   Adrianne is no stranger to the operatic stage, with credits at Opera On Tap, Longwood Opera, Opera 51, Odyssey Opera, Ithaca College Opera and others.  Notable roles include Lola (Gallantry), Suor Genovieffa (Suor Angelica), Kate Pinkerton in Madame Butterfly, Giannetta (L'Elisir d'Amore) and La Princesse in Ravel's L'Enfant et les Sortileges.
   In addition to her classical training and performance repertoire, Adrianne has extensive experience in the realm of musical theater.  Some of her favorite roles have been Marcy Park (25th Annual Putnam County Spelling Bee), Hope Harcourt (Anything Goes!) and Belle in Disney's Beauty and the Beast.
   Adrianne has served as the Director of Vocal Music at Alameda International High School in Lakewood since 2016, but has recently gone on parental leave after giving birth to her daughter, Hannah, on April 16.  Adrianne, baby Hannah, her husband Jacob, and their 2-year old son, Nathaniel, live in Arvada.
Lilli Bailey-Duran, mezzo-soprano/alto
   Lilli began singing with The Calvary Choir in September 2021, when she was selected to be our alto Choral Assistant. She graduated with a Masters in Vocal Performance from The University of Denver's Lamont School of Music in June of the same year. Her Bachelor of Music degree is from the University of Northern Colorado in Greeley, and she also holds a Performance Certificate in Opera from the Lamont School, which she earned in 2016.
   Lilli's resume lists numerous roles in opera. She recently performed in her first production with Opera Colorado in the chorus of Puccini's Tosca, but also has sung the roles of Desdemona in Otello with Opera Fort Collins, Giovanna in Rigoletto with Opera Classica Europa, and Flora in La Traviata at UNC Greeley.
   In addition to singing with the Lamont Chorale during her studies, Lilli has performed in multiple opera choruses including The Merry Wives of Windsor with Loveland Opera Theater and L'Elisir D'Amore with Boulder Opera Theater, as well as others at UNC.
   Lilli and her husband Matt live in Thornton and have recently welcomed their first baby daughter to their family, Lorelei, on March 10 of this year. Lilli has loved sharing this life experience with The Calvary Choir and congregation. 
Sam Sherman, tenor
  Sam is an active conductor, performer, and educator within the Denver, Colorado region. Holding a Bachelor's of Music degree in Vocal Performance from the University of Northern Colorado, he studied under the guidance of Dr. Diane Bolden-Taylor, Dr. Mathilda Velazquez, and Dr. Mary K. Brewer. Sam has gone on to build a private studio of diverse classical vocalists, pianists, and conductors. Additionally, he has since performed as a vocalist with Opera Steamboat, Opera Classica Europa, The Evans Choir, and the Calvary Baptist Church Choir, for which he is the tenor Choral Assistant since September 2021. 
   Within his undergraduate study, Sam recognized his passion for the podium and began studying choral and orchestral conducting from Dr. Jill Burgett and Dr. Russel Guyver. Now completing his Master of Music degree in Conducting at the Lamont School of Music at the University of Denver, he continues to pursue high-class vocal performance and academic achievement under the direction of Dr. Catherine Sailer and Dr. Nathan Payant. Sam currently is one of the graduate assistant conductors of the Lamont Chorale, Lamont Women's Choir, and Lamont Men's Choir while also being a featured conductor within the Lamont Composers Concert Series. Within his academic settings, he strives to bring diverse composers and choral selections to the concert stage while challenging modern gender portrayals within the sphere of academic music. Sam was recently selected to perform with the Vancouver Chamber Choir as a conducting intern this spring and will be the Music Director for Sondheim's show Company, presented by Opera Steamboat this summer.
   Sam lives in Denver with his partner, Kristofer. 
A.J. Wulf, baritone
   A. J. was selected as Calvary's baritone Choral Assistant in September 2021. Prior to this he served as Director of Choral Music at Liberty High School since 2014, and taught five choir classes and musical theater. He directed music for the school's active theater program, and coached the marching band and clarinet choir. Previously he served as Director of Performing Arts at Weld Central High School in Keenesburg, Colorado. While at Liberty High, he achieved consistent ratings of Superior with Distinction at state festivals with his beginning and advanced choruses. Both his Jazz Choir and Chamber Singers were invited to perform at the Colorado Music Educators Association conference in 2017, the highest honor for a chorus in Colorado.
   A.J. is currently a first-year master's degree student and graduate teaching assistant in choral conducting at DU's Lamont School of Music. He earned his Bachelor of Music Education degree (Summa Cum Laude) from the University of Northern Colorado in Greeley and is a native of Casper, Wyoming.
   A.J. has performed professionally with many ensembles, including the Glen Eyrie Madrigal Chorale, the Colorado Springs Chorale and Chamber Singers, and the Colorado Vocal Arts Ensemble. He is a passionate theater performer, music director, and scenic charge with school and community credits including The Music Man, Pirates of Penzance, Cats, A Little Night Music, Hello Dolly!, and dozens more from multiple states.
   A.J. is a commissioned painter and the winner of the 2010 Artcore New Music Composition Competition for his clarinet quartet, Tone Colors. He is also an avid writer and arranger of music, a pencil artist, a great lover of theatre, and a competitive LEGO-modeler and paper snowflake-maker.  A.J. resides in Denver with his husband, Freddie – a hospitality manager and gourmet cook – and their "grumpy old Schnauzer," Louie.