February 11, 2020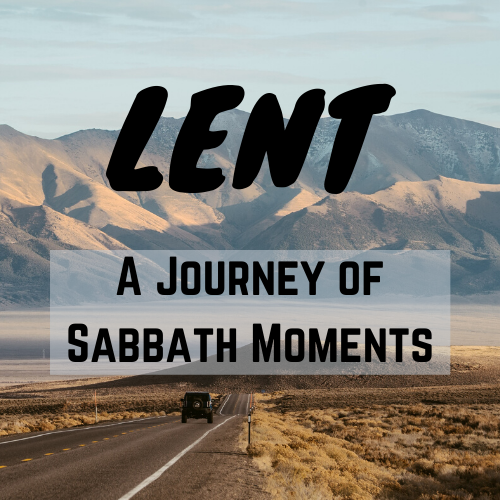 Lent at Calvary: A Journey of Sabbath Moments
Creating intentionality around keeping sabbath is an essential component of our life of faith, and yet, for so many of us – it is the last thing we give attention to because we're so busy or we think it won't fit into our way of life.
Through our church-wide curriculum (to view, click here; view family reflections here), we've studied the biblical and theological roots of Sabbath in January and February. Now we continue the journey of sabbath discernment this Lent by exploring what sabbath means for our individual lives and for our life together as a community of faith. For most of us sabbath may not come in large blocked off periods of time and/or in taking a whole day off at a time to rest or renew. Rather, sabbath might just be about finding Moments – moments where we can just be, breathe, re-center, and re-focus. These sabbath moments are about reminding ourselves that we are beloved children of God just as we are, and they're about releasing the responsibility of "producing and earning" and/or responding to the needs and desires of others. And over time, all these sabbath moments can and will create meaningful change in our lives.
Worship
Sunday Worship: We will practice sabbath by continuing our deep dive into the story of Scripture through following the Narrative Lectionary for Sunday worship.
Sundays, Mar. 1, 8, 15, 22, 29 – Worship – 10:30 a.m. / 6:30 p.m. (Sanctuary/Fellowship Hall)
Additional Worship Opportunities: Through creative and ritual-based worship experiences on Ash Wednesday, at Common Table, Common Life,  and throughout Holy Week, we will connect more deeply with God and with one another.
Wed. Feb. 26 – 6:30 - 7:30 p.m.  – Ash Wednesday Service (Fireplace Room)

Sun. Mar. 15 – Common Table, Common Life (20 min. prayer & communion service) – 8:30 a.m. (Chapel)

Holy Week

Palm Sunday, April 5 – Worship – 10:30 a.m. & 6:30 p.m. (Sanctuary/Fellowship Hall)

Holy Monday, April 6 – Worship (30-45 min) – 12:00 p.m. (Chapel)

Holy Tuesday, April 7 – Worship (30-45 min) – 12:00 p.m. (Chapel)

Holy Wednesday, April 8 – Worship (30-45 min) – 12:00 p.m. (Chapel)

Maundy Thursday, April 9 – Tenebrae Worship – 7:00 p.m. (Sanctuary)

Good Friday, April 10 – "Seven Last Words of Christ" Service with New Hope Baptist Church – 7:00 p.m. (Sanctuary)

Holy Saturday, April 11 – Worship (30-45 min) – 12:00 p.m. (Chapel)

Easter Sunday, April 12

Sunrise Worship at Red Rocks with the Colorado Council of Churches – RSVP to cbc@calvarydenver.org to reserve a spot on the church van

All Church Reception, Crafts, & Easter Egg Hunt  – 9:00 a.m. (Fellowship Hall)

Worship – 10:30 a.m. & 6:30 p.m. (Sanctuary/Fellowship Hall)
Connect
Sabbath Suppers: Through conversations and rituals, our Wednesday evening Sabbath Suppers will allow us to explore topics together such as "How do our Sundays at Calvary fit into sabbath" /  "Individually and collectively, what barriers do we experience around practicing sabbath?" / "What does practicing sabbath look like for committees, small groups, and social groups at Calvary?" / "Is keeping sabbath even possible in this day and age? Why or why not?" As we explore these barriers and/or challenges to sabbath practices, we will see how we as a community can support each other in moving through these barriers to a place that is more freeing as we seek to make practicing Sabbath a reality in our lives.
Weds. Mar. 11, 18, 25 & April 1 – 6:30 - 8:00 p.m. – Sabbath Suppers (Fellowship Hall)
Sabbath Moment Morning Retreat: Join us for a time of prayer, singing, labyrinth walking, prayer stations, and meditation as we spend time in community and in God's creation, which can be a healing and renewing sabbath practice.
Sat. Mar. 14 –  9:00 a.m. – 12:00 p.m. – Sabbath Moment Morning Retreat – The Sanctuary Center, Castle Rock 
Sabbath Celebration: On Easter morning, we will engage in the sabbath practice of celebration and fun at an all-church reception as we prepare to worship the Risen Christ.
Easter Reception with Food, Crafts, & Egg Hunt  – 9:00 a.m. (Fellowship Hall)
Reflect
 Lenten Devotionals: "A Moment of Sabbath" Lenten devotionals will be delivered to your inbox two times a week, allowing you to pause and have a moment of sabbath through quotes, reflections, soundbites, and audio guides. With each of these devotions we hope you are able to take a moment to breathe as you connect with God, self, and others. If you are subscribed to Calvary's main enews list you will receive them. Questions? Email Pastor Alice (ahornernelson@calvarydenver.org).